Wisdom Teeth Removal
At Port Kennedy Central Dental Care, you'll find the solutions that suit every member of your family's needs. It's our goal to provide affordable and stress-free dental care to everyone in our community. No matter which of our services you require, you can feel confident that you'll be treated with respect and compassion.
We understand that it can feel intimidating to have a tooth extracted. When it comes to wisdom teeth extractions, we are proud to minimise our patients' discomfort and allay any concerns that they have. You'll be comfortable during the procedure and get all the necessary aftercare instructions.
When Your Wisdom Teeth Need to Be Extracted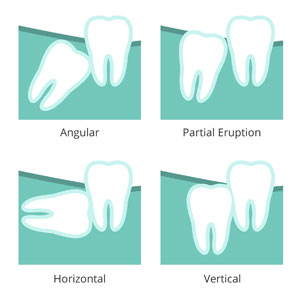 In some cases, wisdom teeth can grow in without any issues. Though that's the ideal, most people end up needing to have them removed. They may not grow in properly or will negatively affect your other teeth. The signs that you may need to have your wisdom teeth extracted include:
Pain
Tooth decay
Wisdom teeth can't erupt
Swelling
Surrounding teeth are blocking your wisdom teeth
What to Expect During Your Wisdom Teeth Extraction
The first step is to have a full evaluation by our experienced team. We'll take a look at your wisdom teeth and take radiographs to look at their placement and whether they need to be taken out. The large OPG Xray required to see your wisdom teeth is done onsite for you for immediate results. If so, we'll give you a local anaesthetic (or sedation if you prefer) and wait until you tell us that you're ready to proceed. Then, we'll remove your wisdom teeth as efficiently as possible.
Typically, having your wisdom teeth removed takes 30-60 minutes depending on how many need to be extracted and their placement. We'll let you know precisely what you can expect at your consultation.
Aftercare Instructions
Don't plan on any strenuous activities after you've had your wisdom teeth removed. It's best to take it easy, eat soft foods and avoid rinsing your mouth or touching the extraction site.
You can apply ice to the outside of your cheek and take over-the-counter medications to deal with any pain or swelling. You should be ready to return to your daily life within four days.
You'll receive full instructions on what to do after your wisdom teeth removal Port Kennedy at your consultation.
We'll make sure that you have all the information you need and get answers to every question you have.
Experience Our Gentle Touch
We're set apart by taking a personal, compassionate approach to our dental care. We accept health funds and have payment plans available through zipPay. Contact us today to schedule your consultation with us!
CONTACT US
* Any surgical or invasive procedure carries risks. Before proceeding, you should seek a second opinion from an appropriately qualified health practitioner.

Wisdom Teeth Removal Port Kennedy, Warnbro, Baldivis WA | (08) 6500 7345