New Patients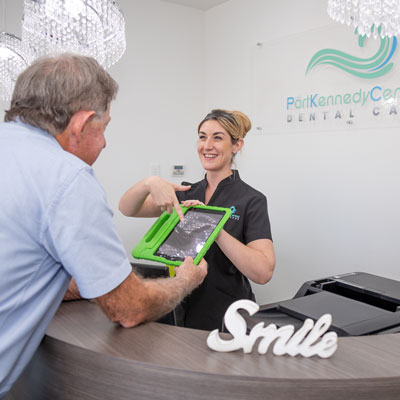 When you walk into Port Kennedy Central Dental Care, you'll be warmly greeted by a member of our team. Don't be surprised if we offer you a tea or coffee if you arrive early! (We have been told, we make amazing coffee) It's all part of our genuine care we love to offer to all our patients. We even have iPads for the kids to play on while you wait!
Please bring your health fund information in with you to this first appointment.

Your Consultation
Usually, your first appointment with us will consist of a consultation. At this appointment, you'll discuss your concerns, and we can get to know you. Once we know what you would like to do, we can make our recommendations. If you choose, we can proceed with an examination straightaway or book in on another day for that.
Moving Forward With an Examination
When you would like to have an examination, we'll take a look inside your mouth. Each tooth and your gum health are assessed. We'll diagnose any issues, then discuss a treatment plan with you. X-rays are only taken if they are necessary. This visit takes about an hour.
The team at Port Kennedy Central Dental Care practice Australian Sterilisation standards at all time. We believe in comfort, safety and care, consistently.
Before you embark on any further treatment, you'll know exactly what we recommend you have done, why and all costs involved. Over 40% of the population does not have health insurance. No health insurance? No worries! At Port Kennedy Central Dental Care we provide affordable care for all patients. Payment plans are available.
Experience Affordable, Gentle Dentistry
For emergencies outside of normal hours, please call 0409 908 271; we have weekend hours from 8am – 2pm. We provide a range of payment options to make sure you can get the care you need and are Members Choice for both HCF and HBF. Contact Port Kennedy Central Dental Care today to book your appointment with our gentle, caring team!
* Any surgical or invasive procedure carries risks. Before proceeding, you should seek a second opinion from an appropriately qualified health practitioner.

Port Kennedy Central Dental Care | (08) 6500 7345