Custom Mouthguards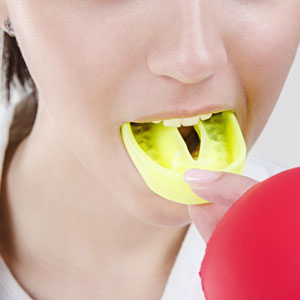 At Port Kennedy Central Dental Care, you'll find all the dental services your entire family needs. We want to make sure that you won't have to go elsewhere to get the care and attention you require. With our belief in affordable dentistry, you and all of your loved ones will be able to improve and maintain your oral health with us.
If you play a contact sport or have a child who is active in sport, you're well aware of the risk of injury. A trauma that affects your mouth, jaw or neck can be particularly impactful, painful and costly to address. This damage is easily preventable, however, by wearing a protective mouthguard.
Who Needs a Mouthguard?
Did you know that estimates state one in five children in Australia will suffer a dental trauma by the time they turn 14 years old? Many of these occur during sporting activities. That means hundreds of children have dental injuries each year. They can be easily avoided by wearing a professionally made mouthguard.
Sports Medicine Australia (SMA) and The Australian Dental Association (ADA) have worked together to create a Mouthguard Policy. This policy says that mouthguard should be mandatory during training or matches for hockey, wrestling, football, boxing, wrestling, martial arts, basketball, netball and lacrosse.
The Superior Fit of a Custom Mouthguard
The "boil-and-bite" mouthguards that you can find in shops are not the same device that you would get at a dentist's office. The kits you can buy and do yourself offer little or even no protection. They won't fit like a professionally made mouthguard. Without the proper fit, you won't have the level of protection you need from impact.
The mouthguard must be customised to you so that it can properly absorb any facial impact. Otherwise, it can easily result in an injury to your lips, tongue, jaw, face or teeth.
Our Quick Turnaround Times
A professional prosthetist is on staff at Port Kennedy Central Dental Care. That means your mouthguard will have a perfect fit, the level of protection you need and a quick turnaround time. You won't have to worry about a long wait to start wearing your mouthguard during your practices or games. You can even choose the colour of your mouthguard to show support for your team.
Book Your Consultation
Do you think that you may require the protection of our mouthguards Port Kennedy but aren't sure? You can find out without cost or obligation. Contact us today to schedule a consultation! We have same-day visits and Saturday hours available.
CONTACT US

Custom Mouthguards Port Kennedy, Warnbro, Baldivis WA | (08) 6500 7345