Sleep Dentistry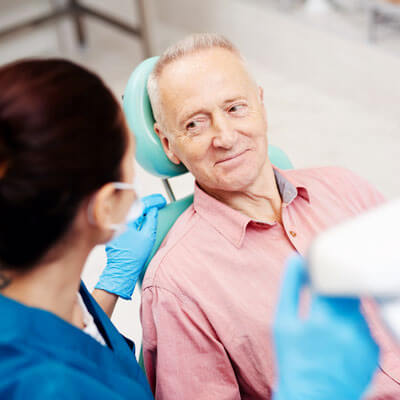 The team at Port Kennedy Central Dental Care focuses on providing the dental care you need at prices that you can afford. We want to achieve the best outcomes for you, making sure that you stay within your budget and get the solutions that you require.
If you have felt apprehensive about going to the dentist before, you're far from alone. Many people feel fear about visiting the dentist. We want to take away any worry you have and reassure you that we will take great care of you. If you require sleep dentistry, we offer oral sedation or IV sedation so that you can complete your appointment with ease.
Take a Seat in Our Relaxation Room
When you arrive, you'll be ushered into our relaxation room. This space has been created for our patients to sit in a comfortable chair and have some time to de-stress before and after their dental appointments. With our tranquil, calming environment, you'll feel your worries melt away.
Many patients who have felt nervous about the dentist report that they can now complete their dental procedures thanks to our emphasis on treating those with dental anxiety.
Oral Sedation
If you choose to have oral sedation, you will take a medication by mouth about an hour before we begin your treatment. As time passes, you will feel more relaxed and able to complete your appointment. You will need someone to drive you home, so please be sure that you have transportation arranged.
IV Sedation
Intravenous sedation will allow you to be unconscious throughout your procedure. It is administered by our anaesthetist. You'll be walked through exactly what to expect so that you know what will happen. IV sedation can be particularly effective for people who want to complete multiple procedures at one time.
Financing Through zipPay
Often, people think that they can't afford to have sleep dentistry. We believe that everyone should have access to the dental treatment options they require. We work with zipPay, an organisation that can arrange affordable payment plans with 0% financing. With zipPay, you can pay for sleep dentistry Port Kennedy while staying within your budget.
Book Your Consultation Today
All treatments we offer start with a consultation. You can learn more about sleep dentistry before deciding whether you would like to move forward with it. Contact our friendly, caring team today to book your consultation!
CONTACT US
* Any surgical or invasive procedure carries risks. Before proceeding, you should seek a second opinion from an appropriately qualified health practitioner.

Sleep Dentistry Port Kennedy, Warnbro, Baldivis WA | (08) 6500 7345