Children's Dental Care
When you become a patient at Port Kennedy Central Dental Care, you have access to a full suite of services. We welcome all ages, from children to adults. If your child needs to see the dentist, we enjoy teaching them healthy oral habits and make sure their teeth and gums are looking good starting early on in life.
Our children's dentistry services include dental health assessments, professional cleans, fillings, mouthguards for sport, crowns, fissure sealants and fluoride treatments.
Starting Good Oral Health at a Young Age
You should bring your child in for their first appointment around when their teeth begin to erupt. You can even have them accompany an older sibling to their visits. This will allow them to become familiar with our staff and the environment early on.
The solutions we provide for children are: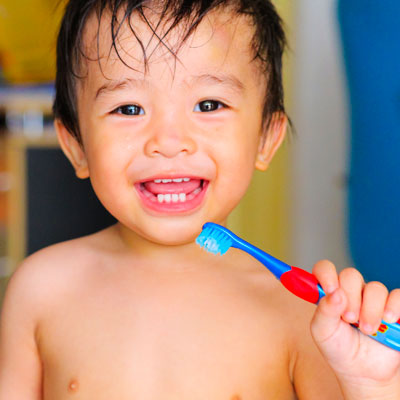 Dental health assessments:  Having a healthy smile involves brushing, flossing and getting a comprehensive assessment at regular intervals with our team. We recommend your child come in every six months so that we can give their teeth and gums a thorough evaluation. If we find that any further treatment is needed, we'll discuss it with you.
Professional cleans:  We'll remove any buildup on your child's teeth with our professional dental cleans. Their teeth will be left smooth and sparkling.
Mouthguards for sport: We custom-create each mouthguard to make sure that it fits your child. If they participate in a contact sport, it's essential to protect their teeth, gums, cheeks, jaw and neck from injury. Our professional-grade mouthguards offer a superior level of injury prevention.
White fillings: If your child has tooth decay, we can treat it with a filling that will blend in with the rest of your teeth. Our white fillings don't require as much of the tooth structure to be removed, and nobody will notice it's there.
Dental crowns:  Damage to your child's teeth can occur from advanced decay or other types of trauma. If the damage is too significant for a filling to address, we may recommend a crown. It is a simple cap that goes over the tooth, giving it greater strength and stability.
Fissure sealants:  The back teeth in the mouth have deep pits and grooves where food particles and bacteria can easily stick. To make them easier to clean, we can apply a coating called a sealant. It ensures that anything stuck in these teeth can be removed.
Fluoride treatments:  Fluoride is an essential part of making sure your child's teeth are resistant to decay. A concentrated application can give them a lasting measure of protection.
The Child Dental Benefits Schedule

Medicare provides a programme called the Child Dental Benefits Schedule. Eligible children aged 2-17 are eligible to receive $1000 in basic dental services every two years. Find out if your child can collect this benefit. Contact us today for children's dentistry Port Kennedy!
CONTACT US
* Any surgical or invasive procedure carries risks. Before proceeding, you should seek a second opinion from an appropriately qualified health practitioner.

Children's Dentist Port Kennedy, Warnbro, Baldivis WA | (08) 6500 7345