Teeth Whitening in Port Kennedy
Professional Teeth Whitening – Get The Smile of Your Dreams
At Port Kennedy Central Dental Care, we want to help your entire family show off healthy smiles for life. With regular brushing and flossing and periodic dental health assessments, you're well on your way to having excellent oral health.
Even if you're careful with your hygiene habits, your teeth might not be as white as you would like. If so, we are pleased to provide teeth whitening in our clinic or can give you a take-home kit to complete at your convenience.
Keep Your Smile Stunning – Call (08) 6500 7345 To Get Started!

Why Your Teeth Discolour Over Time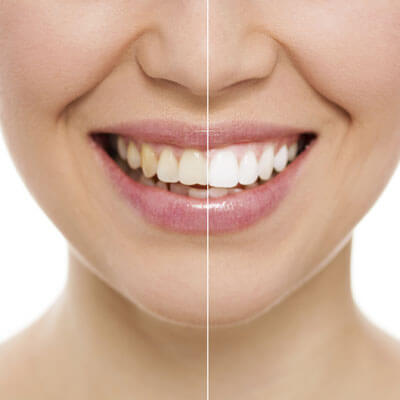 Over the years, you might have noticed that your teeth have taken on a different shade than they used to have. It's normal that your teeth aren't quite as bright as they used to be. The many reasons that your teeth discolour include:
Eating or drinking staining substances like red wine, coffee or berries
Certain medications
The ageing process, which results in thinned tooth enamel
Tobacco use
Trauma
You may not want to avoid drinking your morning tea or eating the foods that you want to. With teeth whitening, you don't need to. You can enjoy the things you love and have a simple procedure that will restore the lustre of your smile.
Our In-Chair Whitening
Do you have an upcoming social event or job interview? You likely want to have quick results from your teeth whitening. If so, you may find that our in-chair whitening is ideal for you. In a single appointment, we'll complete the entire process, and you'll leave with a sparkling white smile.
We'll custom-fit trays to you so that you're comfortable during the procedure. Our staff will administer the whitening gel, making sure the other parts of your mouth are protected. You'll be able to relax and know you're in good hands. When your whitening is complete, you'll have instant results.
Take-Home Whitening Kits
If you find it challenging to come in for an appointment or aren't in a rush to complete your whitening, you may prefer to do it at home. Our professional-grade kits aren't like those you can buy at the chemist. The custom-fitted trays that we provide are comfortable and provide superior whitening. You'll receive full instructions from our team to maximise your results and reduce your sensitivity afterwards.
Our Teeth Whitening Specials
We always ensure the best quality products are used for our patients. It's amazing what tooth whitening can do for your confidence! From time to time, we hold special offers on teeth whitening Port Kennedy. Contact us today to book a consultation or find out if we have a current special! We're open on Saturdays and have same-day visits available.
BOOK ONLINE »
* Any surgical or invasive procedure carries risks. Before proceeding, you should seek a second opinion from an appropriately qualified health practitioner.

Teeth Whitening Port Kennedy, Warnbro, Baldivis WA | (08) 6500 7345